There are two primary steps to configuring playback through your Cantata Music System:
Make sure all "system sounds" (beeps, interface sounds, etc.) are played through the internal sound card
Route only musical information through the Cantata Music System.
From the Start menu, choose "Control Panel".
Click "Hardware and Sound" to open those settings, and click on "Manage Audio Devices" to the right of the speaker icon.
From the Playback tab, choose the built-in Speakers option, and click "Set Default". (Note that the speakers option may say "Not Connected" if you don't currently have speakers plugged into the audio out jack on the back or front of the computer.)
A circled, green checkmark should appear. This step will ensure that all sounds apart from those of your playback application will be sent through the internal speakers.
Now, select "Cantata Music Center" in the list, then click the "Properties" button in the lower-right button.
Click the "Advanced" tab along the top and for Default Format, choose "24-bit, 44100 Hz (Studio Quality)".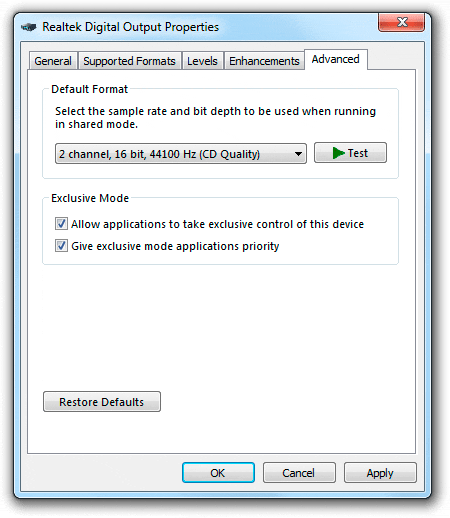 Select the "Advanced" tab. Set the "Default Format" to "24 bit, 44100 Hz (Studio Quality)" and make sure to check both the boxes in the "Exclusive Mode" section.
Play a track in iTunes to confirm your settings.